Why do I need a line sheet?
At some point in your business you will need to create a catalog to promote your products even if you are exclusively selling online. As your business starts to grow, you will need to have catalogs ready for different situations such as:
Attending trade shows
Selling to wholesale customers
Showcase new collections
It's really important to have a catalog that looks professional and reflects your brand. A wholesale catalog is organized in 3 different parts:
A line sheet of your products
We already explained in details in our previous tutorials how to create effective wholesale contract templates and order forms templates that you can reuse for all of your customers. Now it's time to focus on the most important part of your catalog : the line sheet. But creating a line sheet that is both beautiful and exhaustive can take a huge amount of time or be very expensive if you decide to hire a professional designer or a marketing agency. This is the reason why using a line sheet template is the best alternative. Forget spending 20 hours creating your line sheet template or spending $2000 on a design contract. In this tutorial we will explain what exactly is a line sheet and we will then review the different fashion line sheet templates:
Those templates are beautiful, easy to use and they are free! You can create any flavour and variety of catalogs with our free line sheet templates. Using our line sheets templates can be straightforward or fun by adding personal flare. You can download those templates in Photoshop & Word formats (PSD & DOCX) and adapt them to your own business by adding your logo, setting your own colors or using your own font. So let's get started.
What is a line sheet?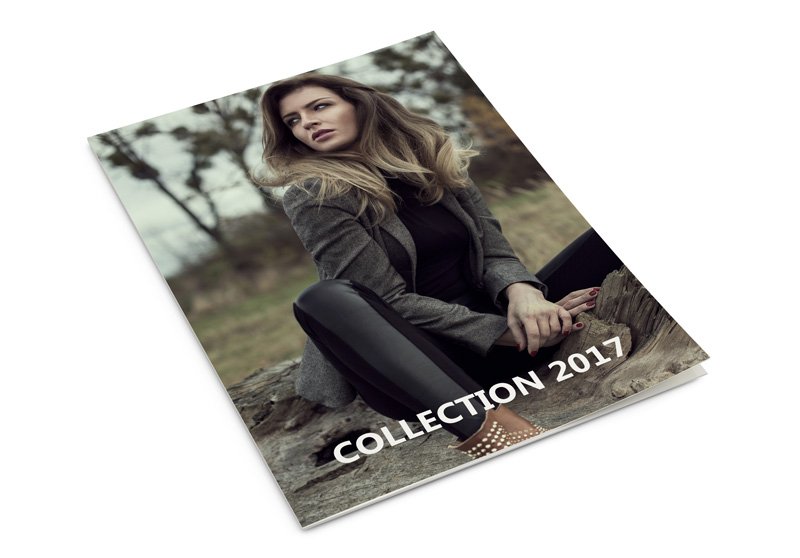 A line sheet is a technical document that gives wholesale and business clients a preview of your products. It also contains lot of information about your products such as prices, materials, minimum/maximum order quantities, your sales terms, and your contact information. Since the main goal of this document is to provide all the necessary information to your customers so that they can order your products, you shouldn't set your focus on products' images. You don't want to distract your customers with incredible pictures of models wearing or using your products, so keep it clean and simple but they still need to look professional and consistent. Our advice for you is to use the same background for all of your photos. A plain and simple white background is the best since it removes all types of distraction. Always keep in mind that information is key on a line sheet. Here is the essential information that you should make available on your line sheet for each product:
SKU
Title
Description
Wholesale price
MSRP (Manufacturer Suggested Retail Price).
Variations available and their corresponding price
Depending on the type of products you are selling you may have to add additional information especially for variants. Let's say that you are creating a t-shirt line sheet template. You will probably need to add the different sizes available (S, M, L, …) and materials used to create the shirt (Cotton, …). But if you were selling bags for example, you would need to display the different dimensions of the bag, it's weight... As stated earlier information is the most important part of your line sheet so you shouldn't set the focus on images, but they still need to look professional, clean and most importantly, they need to be consistent. Our advice for you is to take pictures of your products on a white background, so that they all look the same. You should also put too many products on each page (9 max.) of your line sheet.
Now let's take a look at the different free line sheet templates that we created just for you.
Fashion line sheet template
Since we are a small business ourselves and we know that you really need to be careful on how you spend your money, we decided to give you for free this free pack of line sheet templates. They are perfect if you need to create a small catalog with a few pages and that you don't have any money to spend on this yet. Once your business grow and you are ready to create larger catalogs then you can move to automatic catalog maker solutions like ours: Now In Store. You can download all of those line sheet templates for free and customize them to your needs. Add your own logo, your personal information (address, email, phone, …) and change the different colors so that it better reflects your brand. Please do not hesitate to contact us at info@nowinstore.com if you have any trouble using those templates, we will be happy to help.
Men Fashion line sheet template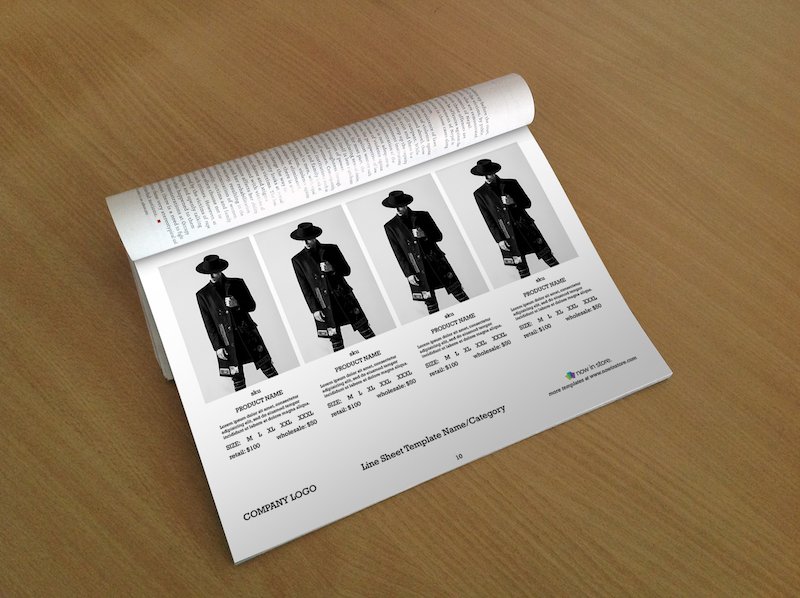 Our men fashion line sheet template is designed for businesses selling men apparels and accessories such as ties and suits. As you can see this line sheet template has large pictures so that you have enough space to display the whole length of your clothes. It's simple and clean but still show all the information your buyers need to purchase your product. We used a typewriter-style font, which gives a sense of professionalism and seriousness to the whole design.
Jewelry Line Sheet Template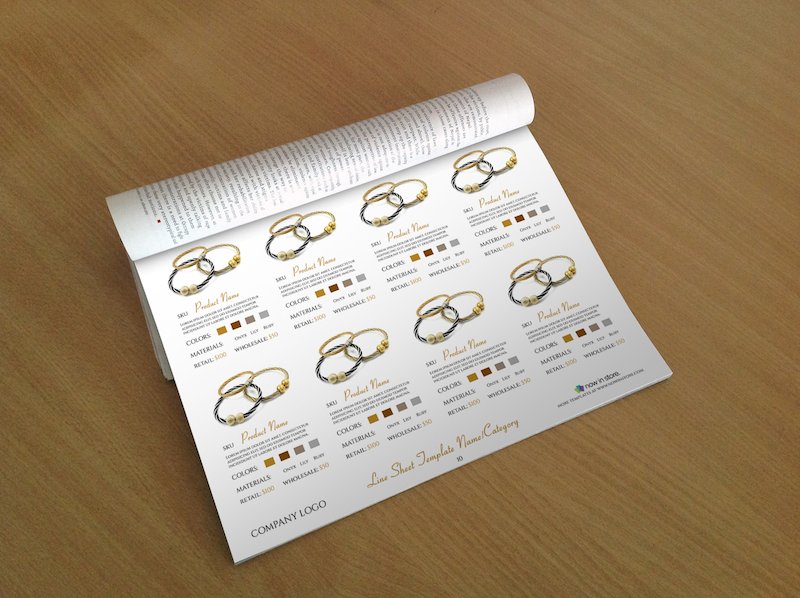 Our jewelry line sheet template is beautiful and classy. The thin sans-serif font used for this design gives a feel of luxury to this template, which is reinforced by the gold color used for prices and names. You have space to put the different colors available for the variations of your products and the materials used for its fabrication (gold, silver, …).
Bag Line Sheet Template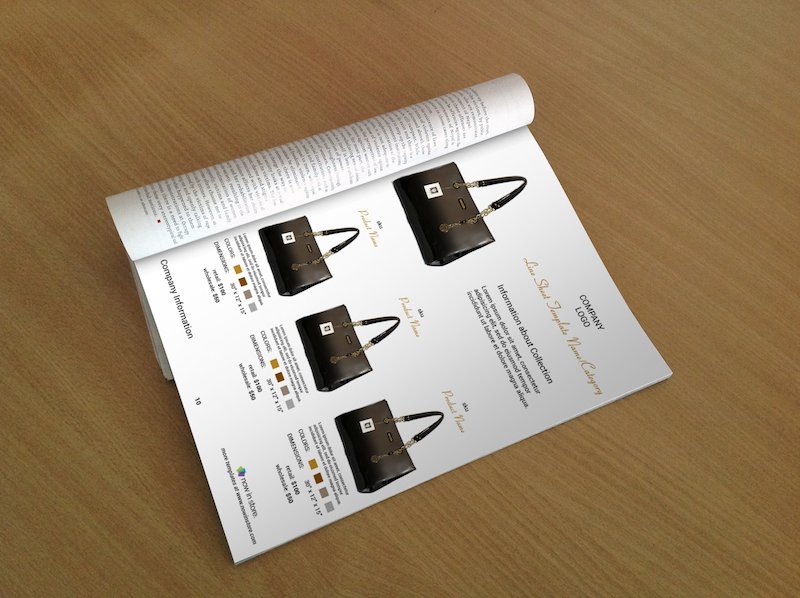 For our bag line sheet template, we decided to put some emphasis on one of your products on the first row but you can easily modify the template to display 3 products on the first line as well. As you can see, you have space to add the different colors of your products and the dimensions of your bags, which is an essential piece of information in this industry.
Shoes Line Sheet Template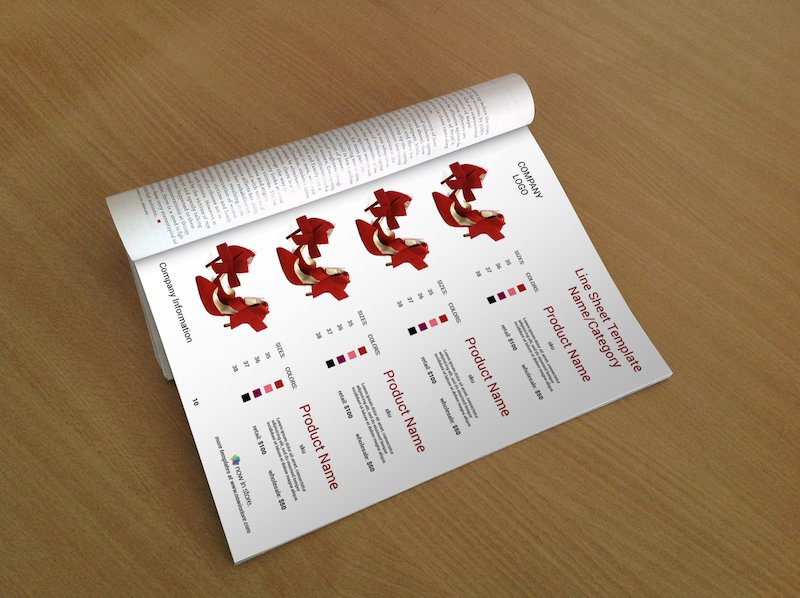 Our shoes line sheet template use a column layout that makes it really easy for your customers to see all the information they need within a few seconds. Sizes, colors and prices can be spotted with absolutely no effort. Your customers will be delighted to look at your line sheet since they won't lose any time finding the information they need.
Shirt Line Sheet Template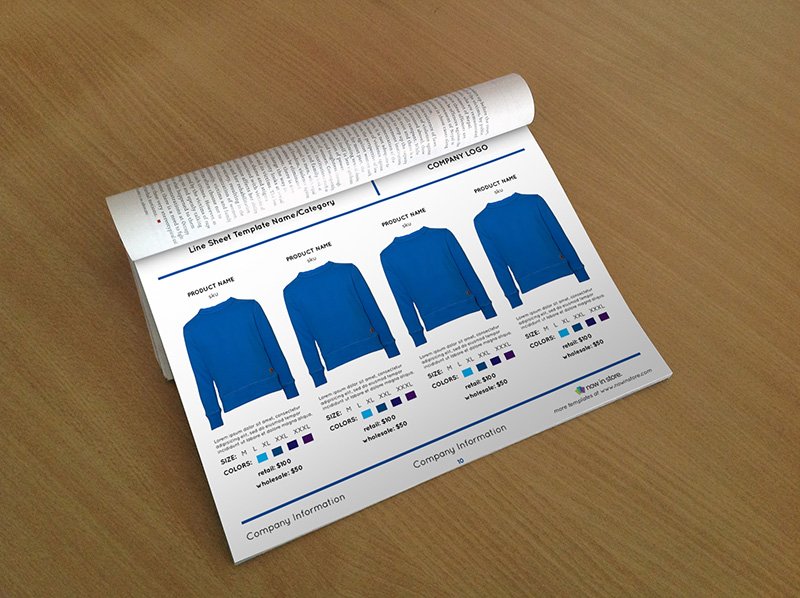 Our shirt line sheet template is perfect if you are selling t-shirts or casual shirts. The different colors and sizes available are clearly visible which is all you need for this kind of products. The rounded font used is enjoyable to read and add a unique style to your line sheet.
Hat Line Sheet Template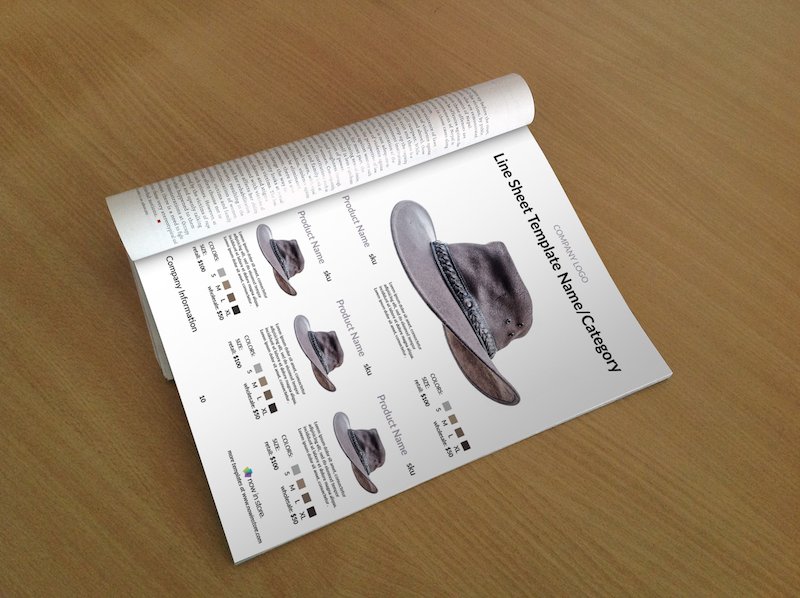 Our hat line sheet template is perfect if you are selling hats and caps. This line sheet template put the emphasis on one product on the upper part of this design. You can easily display more products by replacing this first row by elements of the second row. Add your own colors and sizes to this template to personalize it.
Updated on November 10, 2018